When it comes to original Mosborough families many names spring to mind, Turner, Hutton, Sitwell, Staton, and the Staniforths. The first mention of a Staniforth in the parish of Eckington can be found in Manor Court Rolls dating back to 15th April 1521, John and William Staneford are essoined (fined for nonattendance of court).   From this date on, right through the centuries there has always been a Staniforth presence in the parish.

In 1560, William Stannyforthe son of Henry Stannyforthe of Heardynges was baptized at St. James in the neighbouring parish of Norton, he would go on to marry Elizabeth Thorpe, daughter of Christopher Thorpe.  William would take up the smithing trade and move to Eckington where he would go on to have a number of sons, including Robert Staniforth and William.  William would go on to have his own sons who would leave for the parish to the east and settle and form what is now known as the Staniforths of Beighton and Hackenthorpe.

Thomas Staniforth, another of the sons would reside at Geer Lane and was a well known sicklesmith, apprenticed to his father William at the time of his death.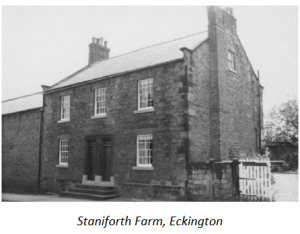 The Staniforths that stayed in the parish of Eckington made names for themselves in not the villages of Mosborough, Eckington itself and Ridgeway. Samuel Staniforth owned Mosborough Hall and operated a colliery in the village. Henry Staniforth owned a number of cottages on Mosborough Commons and at one point resided at Mosborough Hill House. Elijah Naboth Staniforth was another well known inhabitant of the house and is believed to have actually built it. Many of the Staniforths were successful sicklesmiths including Luke Staniforth that rented the Never Fear Wheel.

The area to the bottom of Ridgeway known as Litfield also has a strong connection to the family, with the Litfield farmhouse being passed down through generations. The Fitzwilliam Arms was ran by a Thomas Staniforth.
One particular story relating to Mosborough School shows that Joseph Stone, by will dated 20th May 1680 devised certain premises and lands, upon trust, to bestow the rents upon a schoolmaster, for teaching 15 poor children within the Bierlow of Mosborough. Proceedings were instituted by the Re. Fred Ricketts and five others for the purpose of having new trustees appointed and for the removal of the schoolmaster.

The Property was vested by Thomas Hutton, Luke Staniforth amongst others. Luke Staniforth also ran the Butchers on High Street, Mosborough at the end of the 1800s before passing it to his son, Luke at the start of the 1900s.

The Staniforths continued to have a presence in the village well into the 20th century, with many recent members of the family being buried in the more modern Eckington Cemetery.
William Staniforth and son John of Mosborough remembered in a plaque in St Peter & St Pauls, Eckington
Credit to Nathan Staniforth.