George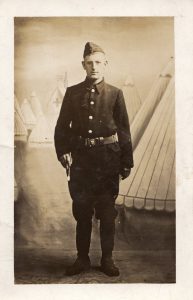 Frederick Walker was born in 1897/98 to George and Harriett Walker in the village of Mosbro.  They lived at 13 Chapel Street Mosbro in the Ecclesiastical parish of St Matthew and St Marks Church according to the 1901 Census, Piece 3258: Folio 158: Page Number 30. Via   www.ancestry.com.  On the 1911 Census George Frederick Walker lived at Plumbley Lane, Mosbro.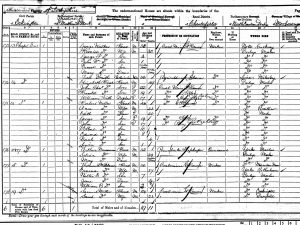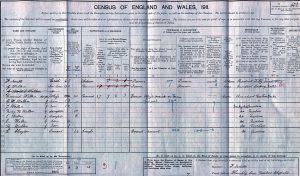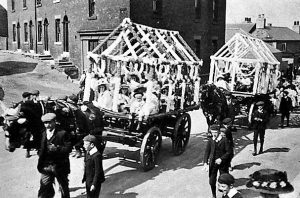 The Photograph left is a picture of George Walker with his son George Frederick.  It was around about 1911/1912 on Whitsun Tide Parade walking up Queen Street with (Little Hill) in the back ground. The young man is the one on the Cenotaph in St Mark's Church, High Street, Mosbro.
George one Sunday afternoon went to sign up on a field next to Elmwood and across the road from Mosbro Hall.
George Frederick Walker served in the Notts and Derby (Sherwood Foresters) Regiment in the 2nd Battalion.  His Regimental No was 16130.
He was killed in action on 10 February 1917 in France and Flanders, which is a 100 years this year.  George was buried at Vermelles British Cemetery, France.  Plot 5. Row C. Grave 34.  See report form below:
His inscription says:  "GOD'S WILL BE DONE THOUGH HEARTS MAY BREAK"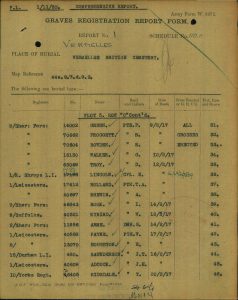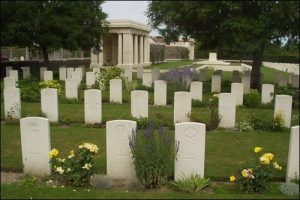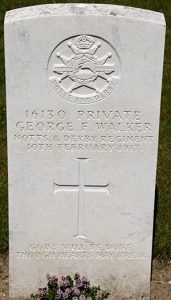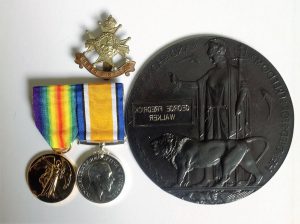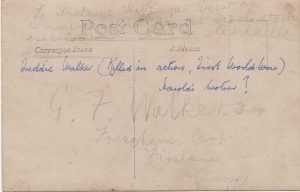 George's Theatre of War first served in France.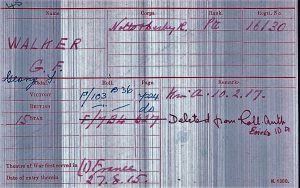 MOSBRO' SIGNALLER KILLED. Mr and Mrs. G. Walker, Westwell Farm, Mosbro have received the follow-' letter, dated 11 February, "in the field." from Second Lieutenant Thomas Rose in charge of a signal section of the Sherwood Foresters: "It with great regret that I write to inform you that your son. Private F. Walker, Signal Section. Sherwood Foresters has been killed in action. He was in the signal dug-out along with others, when heavy shell dropped on the roof and blew the dug-out in. Your son was asleep at the time and was killed instantly by a piece which struck him in the chest. could not have suffered any pain. Two more signallers were badly wounded and burned, and the remainder escaped. We of the Signal Section who knew him so well offer you and your family our deepest sympathy. He was good lad; very quiet, but willing, and excellent worker. have noticed how' keen he was Iris work. The only time was indisposed wanted to stick it and I had to order him see the doctor. shall miss him very much. was buried the cemetery here. The signal sergeant and a comrade went along, and said it was a very impressive service." Private Walker was only 19 years old.
Credit to:  Graham Walker, www.ancestry.co.uk;   www.cwgc.org  www.forces-war-records.co.uk
Information collated and typed up by Linda Taylor (nee Staton)