Oscar was born in the year of 1889 and was baptised on 22 December at Thorpe Hesley, Yorkshire in the Parish of Kimberworth, Rotherham.  He lived with his parents Fred and Mary Guest at 451 Thorpe Common Yorkshire.   According to 1901 Census, Oscar and his family had moved to 8 Hill Side Mosbro, he lived there with his other brothers Friend, Rolling and Fred Guest.  Oscar's father Fred was a Coal Miner there.  1901 census reference, Piece: 3258, Folio 161. Page No. 35, household schedule 214.

Before the war Oscar worked as a Coal Miner Hewer , he then lived at 22 South Street, Mosbro according to the 1911 Census  showed on the left.

Oscar enlisted into the Notts and Derby (Sherwood Foresters) 2nd Battalion Regiment at the age of 25 years old as stated in the Short Service Attestation below.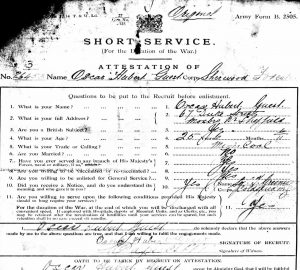 He was killed in action on 15 September 1916 at the age of 27 years.

The Cemetery he was buried at was The Thiepval Memorial France.  Pier and Face 10 C 10 D and 11 A.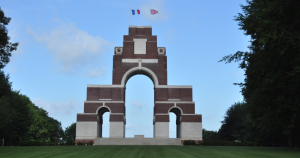 Oscar Hubert Guest enter into the theatre of war in France on 9 December 1915.  He was awarded the medals listed below.

              

Listed below is a record of Oscar Guest effects given to his mother in 1917 and 1919.

Credit to: https://www.forces-war-records.co.uk; https://www.cwgc.org;  www.ancestry.co.uk, Typed up & collated by Linda Taylor (nee Staton) April 2018